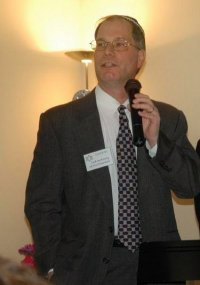 Jack was raised in Flushing, NY and is a graduate of Baruch College of the City University of New York.  He is formerly associated with EisnerAmper LLP (formerly Richard A. Eisner & Co.), a large regional accounting firm.  Jack established his public accounting practice in 1991 in New York, and is a sole-practitioner specializing in accountancy and taxation for small businesses, start-up companies and high net-worth individuals.  Based in Goshen, NY since 2001, Jack represents clients before the Internal Revenue Service and other taxing authorities with the most intricate and complex of tax matters.  Most recently, he gave a presentation and lecture to the Goshen Chamber of Commerce on the expiring Bush tax cuts and President Obama's newly enacted tax policies.  Jack is a strong advocate on behalf of his clients, and has a high success rate defending them upon audit.
In addition to accountancy, Jack is president of Temple Sinai in Middletown, NY.  He is a past president of the Jewish Federation of Greater Orange County, Inc., Metronorth Region of B'nai B'rith encompassing New York and New England, Warwick Day Care Center, Inc., past chair of the Town of Goshen Democratic Committee and past co-chair of the Banking & Finance division of the State of Israel Bonds in New York.  Jack serves as treasurer of the Community Foundation of Orange and Sullivan and the Friends of Berkman campaign committee, and has served numerous organizations in that capacity over the years.  Jack is also a member of the Board of Directors of the METNY Region of the United Synagogue of Conservative Judaism in New York.
He resides in Warwick, NY with his wife Suzanne, a radiologist, and their sons Bryant, age 11, and Adam, age 8.